Debatemne: Thai-Dk Din debat side :: Sådan (ingen kære mor her)
---
Oprettet af anti d. 07-01-2016 10:15
#1
---
'Influential' policeman arrested in Chiang Rai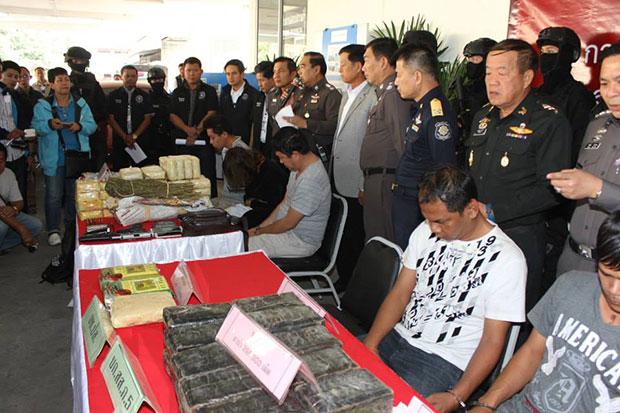 Pol Senior Sgt Maj Seri Duangchaiprasert, 49, (seated third from left) sits with two suspects arrested with him and 180,000 seized methamphetamine pills at a police media briefing in Chiang Rai on Thursday. The two seated men on the right are suspects in a separate firearms case. (Photo taken from Provincial Police Region 5 facebook)
CHIANG RAI -- A police sergeant major said to be an "influential person" was among three people arrested with 180,000 methamphetamine pills after a long surveillance operation in northern Thailand.
Pol Lt Gen Thanitsak Theerasawat, chief of the Region 5 Provincial Police, said Pol Senior Sgt Maj Seri Duangchaiprasert, 49, who was attached to the provincial police headquarters, was caught along with Apinpat Jirapacharapiyavach, 28, and Itthipol Chanta, 41.
The three men were major drug dealers, Pol Lt Gen Thanitsak said. They smuggled drugs from neighbouring countries for sale in Chiang Rai and nearby provinces.
http://www.bangko...chiang-rai
Oprettet af anti d. 07-01-2016 10:19
#2
---
Child-rape suspect slain in prison cell

A man accused of raping a 15-year-old girl has been found beaten to death in his cell at Nonthaburi Prison with rubber bands wrapped tightly around his testicles.
Wimol was apprehened in Sai Noi district of Nontathaburi on charges of raping a girl aged below 15. He was sent to the Nonthaburi prison on Jan 2, three days before he was killed.
Police said it appeared Wimol was beaten to death by one or more inmates.
Thairath reported that all 24 inmates in the same cell as Wimol denied killing him.
http://www.bangko...rison-cell